DAX Studio is a tool to write, execute, and analyze DAX queries in Power BI Designer, Power Pivot for Excel, and Analysis Services Tabular.
It includes an Object Browser, query editing and execution, formula and measure editing, syntax highlighting and formatting, integrated tracing and query execution breakdowns.
Visit http://daxstudio.org to read the full documentation and download the latest release of DAX Studio. The project is open source on GitHub.
Darren Gosbell is original author and the maintainer of the project, which has many contributors. SQLBI provides the EV code signing certificate and appears as the publisher of the tool, which can be safely downloaded and installed without SmartScreen warnings.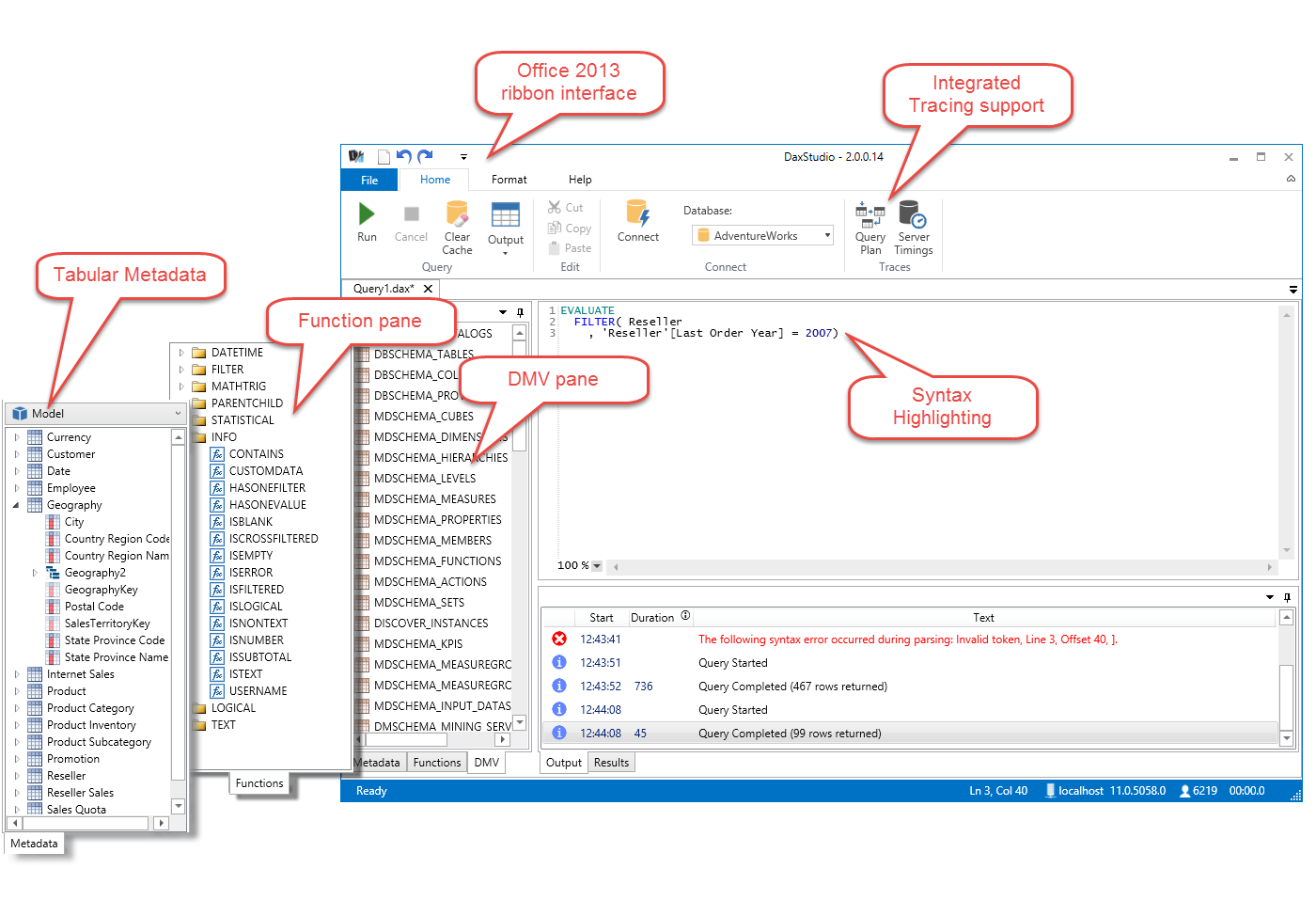 Latest changes
2.14.1
Fixed – Critical issue with the Excel Add-In that causes it to fail to load
2.14.0
Added – Help text when the edit control is empty
Added – Privacy settings
Added – Options for improving the readability of the xmSQL in Server Timings
Added – "Multiple Queries Detected" dialog when pasting in queries from Power BI Performance Analyzer that came from a Composite model
Added – Query Builder moved out of preview status, documentation available in daxstudio.org
Added – Benchmarking moved out of preview status
Added – Enabled Discussions on the github site
Added – Query Builder documentation to daxstudio.org
Added – Retry logic when fetching Database and Model lists
Changed – Help Ribbon updates
Changed – Updating AdomdClient and TOM references to v19.14
Changed – Last Updated is now shown in local time instead of UTC
Large number of bug fixes
2.13.1
Fixed – Crash when opening New Measure or Edit Measure in Query Builder
Fixed – Extended time out for clean up of temporary odc files
2.13.0
Added – Native Excel output so that the Dynamic and Static Excel outputs are always available
Added – Clipboard as an output target
Fixed – Connection handling incorporates a retry mechanism if the connection gets dropped
Fixed – Fixed Sorting in View Metrics table view to do a nested sort
Fixed – Changed Sorting in View Metrics to sort Descending on first click
Added – "loading" status to View Metrics
Fixed – View Metrics – Fixed KB/MB/GB (it was lowercase, which is for bits not bytes)
Added – Improved the query patterns generated by the Query Builder
Added – Added Between/In/Not In filter types to Query Builder
Added – New Options view with search and categories to make finding options easier
Added – Export Data now uses TOPNSKIP in million row batches allowing for the export of massive data sets
Added – Option to prompt before refreshing metadata
Changed – Default Text file output to UTF-8 csv
Changed – Renamed "Excel" button to "Analyze in Excel" in External Tools
Added – Check that the portable version is not in a restricted folder
Fixed – Duplicate New option in customize Quick Access Toolbar
Fixed – Unable to re-show Power BI Performance window after hiding it
Fixed – Incorrectly trying to write external tools file when doing a non-admin install
Fixed – Crashes when right-clicking on certain tool windows
Fixed – Export to csv not quoting strings
Fixed – Improved code completion interactions
Fixed – Parameter parsing in table constructors
Fixed – View Metrics error against PowerPivot models
2.12.2
Fixed – Exception thrown on startup. Only occurs when there is no history of previous data sources.
2.12.1
Added – Pasting a connection string into the server name will parse out the Data Source and Initial Catalog settings
Fixed – Issues when copying Power BI Performance data and pasting into Excel
Fixed – Application crashed if you attempted to open the Initial Catalog list before specifying a server
Fixed – Output to text file was not working for multiple results sets
Fixed – "All Queries" trace was not working against PowerPivot connections
2.12.0
Added – Installer now signed with an EV certificate that prevent warnings from SmartScreen
Added – "Initial Catalog" setting to the Advanced Options in the connection dialog, to choose the initial database when connecting to a very large model or slow connection (like AzureAS or VPN). This minimizes the metadata retrieved from the server before providing control to the user.
Added – Roles and IsAdmin properties to Database tooltip
Added – "Format Query" has a split-button to choose the style of formatting by clicking on the bottom half of the button
Added – Portable build as a download option
Fixed – Power BI External Tools – installer not correctly updating path in daxstudio.pbitools.json file if a non-default install location is used
Fixed – Exporting tables with no rows would throw an error
Fixed – Autosave not recovering open files for all types of crashes
Fixed – Improved tooltip sampling to prevent full column materialization
Fixed – Crash when attempting to export using invalid manual connection string
Fixed – Re-connecting to a pbix file that has been closed and re-opened after launching from External Tools does not work
2.11.2
Added – Support for the "External Tools" ribbon in Power BI Desktop
Fixed – "Define Measure" when connected to a SSAS instance without admin rights
Fixed – (Query Builder preview) Duplicate MyMeasures created when adding more than 1 custom measure
Fixed – Measure information duplicated in VPAX files
Fixed – Crash when highlighting
Fixed – Crash when closing last tab and connection had been lost
2.11.1
Fixed – (Query Builder preview) Filters on datetime columns when a date value is incorrect in "Edit Query" button
Fixed – (Query Builder preview) Spelling of KEEPFILTERS for IS NOT filters
Fixed – (Query Builder preview) Comma placement changed to match the style used by DaxFormatter
Fixed – (Query Builder preview) DaxFormatter now works in the Expression Editor
Fixed – Error while exporting tables to SQL Server
Fixed – Hierarchies in display folders not expanding
Fixed – Leading/trailing comments missing when doing "define measure"
2.11.0
Added – (Preview) Query Builder
Added – (Preview) Query Benchmark
Added – Quick Access buttons for New, New (with current connection) & Save
Added – Export button to all trace outputs
Added – Full filename tooltip to tabs
Added – Note in the Database tooltip that the Database Id can be copied using a right-click
Added – Formatting to shorten asazure: and powerbi: server names in the status bar so that the key information is visible
Added – Partitions tab to the Model Metrics views
Added – Sample of any missing keys to the relationships tab in the Model Metrics (these keys are not saved for privacy reasons when exporting to a vpax file)
Promoted View Metrics (Vertipaq Analyzer) from preview status to general availability
Promoted Export Data feature from preview status to general availability
Updated syntax highlighting to align with DaxFormatter.com
Many bug fixes
2.10.2
Added option to enable word wrap in editor
Added option to display current user in title bar
Added Dax Formatter option to omit spaces after function names
2.10.1
Database tooltip to show language & compatibility level.
Improvements and fixes to the Vertipaq Analyzer pane
Minor bug fixes and enhancements.
2.9.4
Integration with VertiPaq Analyzer 2.0 (preview feature).
New Data Export Wizard (preview feature).
Minor bug fixes and enhancements.
2.9.2
Minor bug fixes and enhancements.
2.9.1
Fix bug for Display Folders.
2.9.0
Added feature to import data exported by Power BI Performance Analyzer.
Support for Display Folders and ability to hide hidden objects from metadata pane.
Minor bug fixes.
2.8.4
Minor bug fixes.
2.8.3
Minor bug fixes.
2.8.2
Minor bug fixes.
2.8.1
Minor bug fixes.
v2.8.0
New DAX code generation features: Filter Dump Measure, Define All Measures.
Editor features: Parameter UI, Auto-Save, Goto Line, Option to zoom and set font size in results grid, links to dax.guide into function tooltips, hotkey Ctrl-Shift-N to open a new query
Other improvements: Updated Data Provider libraries for connecting to Azure AS, PowerBI.com and Power BI Desktop, Support for Power BI Aggregation events in ServerTimings and AllQueries traces, Digitally Signed, Optimized tracing of Direct Query for newer engine sources
Many bug fixes.
Find more details in the blog post by Darren Gosbell.
v2.7.4
Fixes an issue with the clear cache button not working.
v2.7.3
Minor update to fix connectivity issues with Analysis Services 2012..
v2.7.2
Minor bug fixes. More details in the blog post by Darren Gosbell.
v2.7.1
Added support to detect Power BI Desktop installed from Windows Store. Minor bug fixes.
v2.7.0
Capture all queries run on a client, support for Azure AS, enhanced tooltips displaying min/max/distinct count values of each column plus random sample of 10 values, define dependent measures when right-click on a measure, publish/export functions to capture versions of DAX functions. Several bug fixes and improvements in stability. Added CrashReporter.net to manage submission of crash reports. Watch the video of improvements in the debug experience recorded by Marco Russo. Find more details in the blog post by Darren Gosbell.
v2.6.0
Support for multiple result sets, added connection to SSDT Integrated Workspaces, automatic refresh of metadata after editing data model, notification when a newer version is available, improved metadata search performance, and the search box now stays open when it has keyboard focus. Several bug fixes and improvements in stability.
v2.5.0
New option to enable Trace for DirectQuery events, added rows and KB to Server timings tab, optimized calls to DAX Formatter service, small bug fixes, and minor improvements.
v2.4.1
Toggle delimiter switch between US (,) and European (;), Intellisense improvements and many small fixes.
v2.3.0
New Query History Pane, improved parsing of query plans & traces, support for SQL Server 2016, copy measure definition in editor, more configuration options, minor fixes.
v2.2.0
New support to tracing for Power Pivot, basic implementation of IntelliSense, connect to Multidimensional SSAS Servers, support for multiple Power BI Desktop instances, highlight unnatural hierarchies.
Darren Gosbell wrote about the new features in DAX Studio 2.2.
v2.1.0
New query profiling, integration with DAX Formatter, metadata search, connection to Power BI Desktop, and analysis of MDX queries to Tabular.
Paul te Braak published an introduction to DAX Studio on his blog.
You can watch a video about profiling a query with DAX Studio by Marco Russo, who also wrote about new tracing features in version 2.1.
Issues
Please, give your feedback and vote for your favorite features.