DAX Studio is a tool to write, execute, and analyze DAX queries in Power BI Designer, Power Pivot for Excel, and Analysis Services Tabular.
It includes an Object Browser, query editing and execution, formula and measure editing, syntax highlighting and formatting, integrated tracing and query execution breakdowns.
Visit http://daxstudio.org to read the full documentation and download the latest release of DAX Studio. The project is open source on GitHub.
Darren Gosbell is original author and the maintainer of the project, which has many contributors. SQLBI provides the EV code signing certificate and appears as the publisher of the tool, which can be safely downloaded and installed without SmartScreen warnings.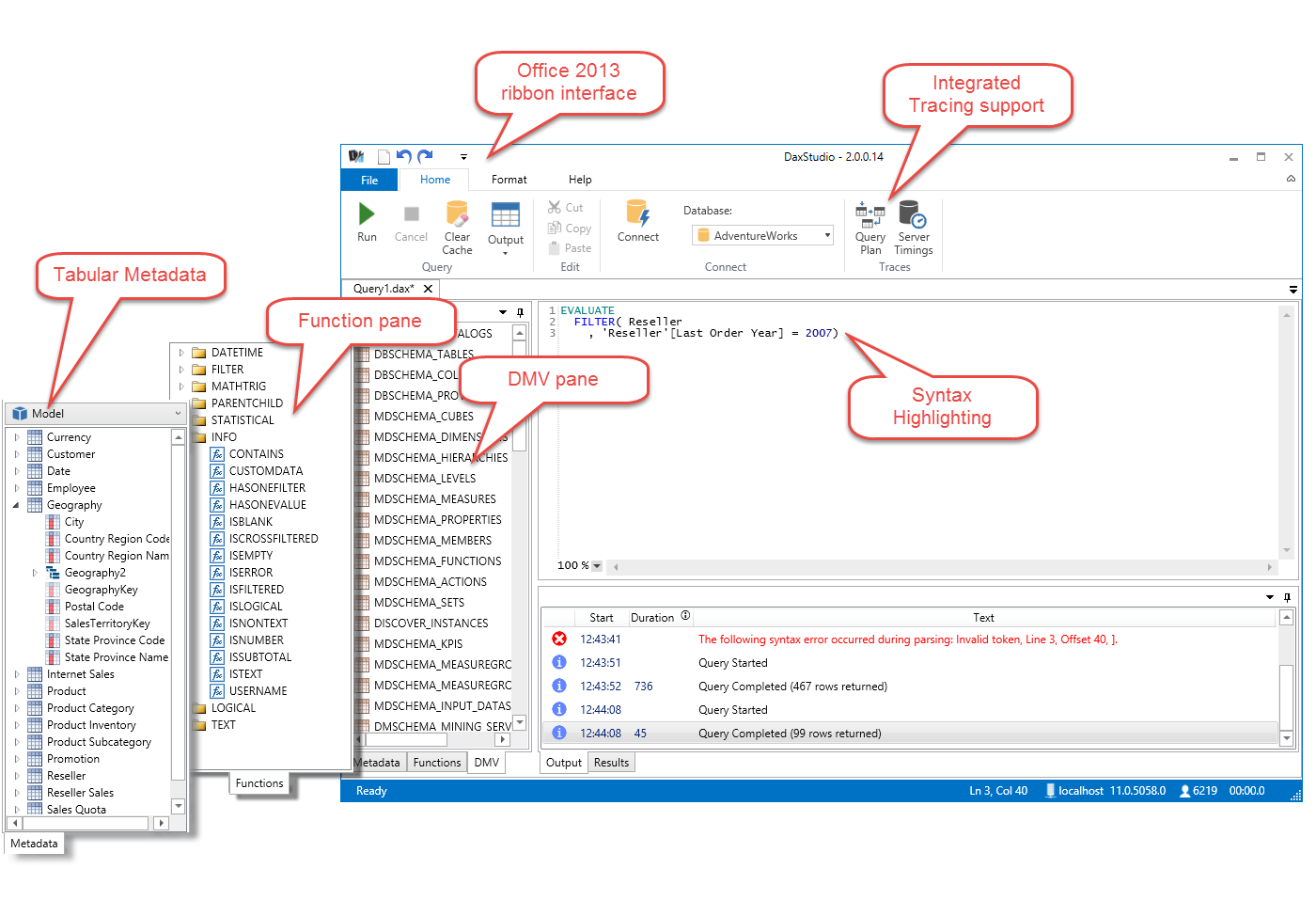 Latest changes
2.16.2
Fixed – Traces fail to start with a timeout error (regression in 2.16.1)
Minor fixes
2.16.1
Minor fixes
2.16.0
Added – "Preview Data" right-click option for tables and columns
Added – Extended parameter support to include data types other than text
Added – "New Version" notification in the title bar
Added – Auto-Generate button to Query Builder
Added – ORDER BY support to the Query Builder
Added – Ctrl+W to select current word
Added – Encoding option when using Exporting Data to CSV files
Added – Extending installer support for Windows ARM64
Added preview feature – Debug Commas – moves commas in formated queries to the start of the line
Added preview feature – Show XMLA Commands in All Queries trace – shows commands sent by other tools like SSDT and Tabular Editor
Updated – xmSQL cleanup to also fix table names
Updated – Supporting all of the /f /s /d command line parameters at the same time
Updated – Query Builder Improvements
Updated – Clicking Edit Query from the Query Builder will now update any previously generated query text
Updated – Custom Key-Bindings moved out of preview
Updated – Extending Hover tooltip to work with Keywords
Updated – Show PBIX filename in the database dropdown instead of database ID
Updated – updating ADOMD / AMO references to 19.22
Fixed – Analyze in Excel not working with PBI XMLA or AzureAS
Fixed – Server Timings Layout Tab not appearing
Fixed – Issue with code completion window "sticking"
Fixed – other minor bugs fixed in this release
2.15.0
Added – Toolbar button and right-click menu to copy Server Timing metrics
Added – Option to play a sound after long-running operations
Added – "Duplicate Measure" right-click menu to Query Builder
Added – Error events to All Queries trace
Added – Right-click menu option in the editor to go to dax.guide for functions
Added – Function tooltip display when hovering the mouse over functions in the editor
Added – Discussions link to website navigation
Updated – Multiple Query Detection to work with // Dax Query comments in composite models
Fixed – more than 25 bugs fixed in this release
You can watch a video about profiling a query with DAX Studio by Marco Russo, who also wrote about new tracing features in version 2.1.
Issues
Please, give your feedback and vote for your favorite features.