SQLBI Video Learning Platform
Designed with you in mind, the features make your learning experience easier and more efficient.

Whether you enroll in Mastering DAX, Data Modeling for Power BI, DAX Patterns or another of our top video courses[ 1 ], learning will be conducted through our training platform which is immersive and designed to facilitate your experience.
Track your progress
Automatically keep track of your progress in the course, and resume where you left off.
Sometimes, you already know the concepts in a lecture and you just want to mark it as completed; easy-peasy, click on the green progress indicator and go ahead!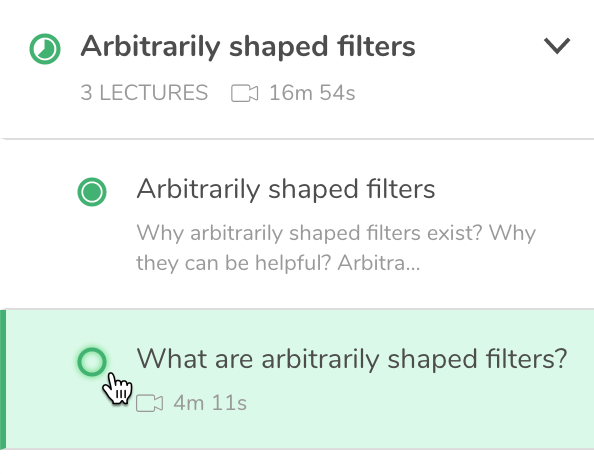 ---
Learn in your own language
Our video courses are delivered in English.
To make learning more accessible to non-native English speakers, we provide manually-written English captions. These are then available as automatic translations into multiple languages: Arabic, Chinese, French, German, Italian Japanese, Korean, Polish, Portuguese, Russian, Spanish, and Ukrainian.
You can enable and set the language of the subtitles using the CC button in the video player.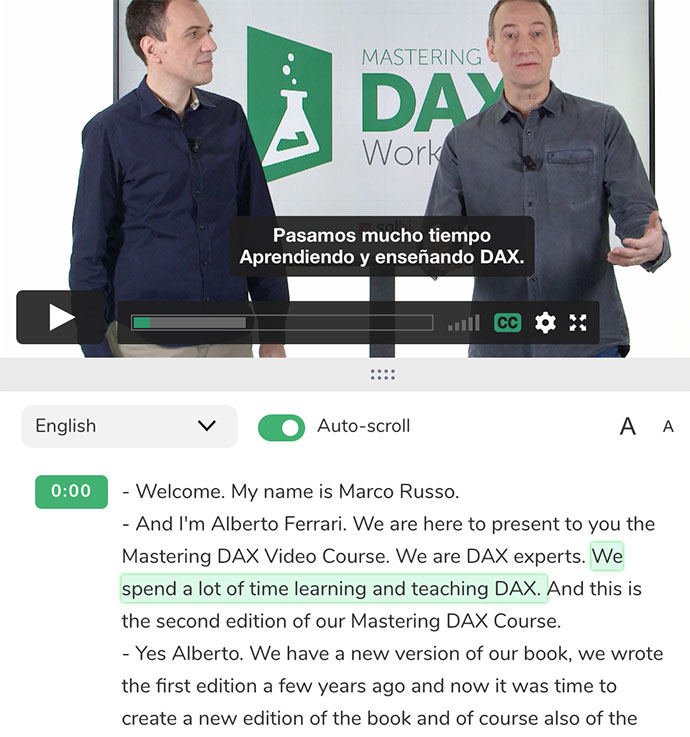 Synced transcripts
Along with subtitles, you can view a transcript of the content of each lecture on the screen. The transcripts are synchronized with the video and you can easily jump from one segment to another.
Also, the language of the transcripts is independent from the language of the subtitles. You could possibly show two different languages at the same time.
Bookmark
Save the most interesting lectures for future use and easy access with bookmarks.
Press the marker button in the header of every lecture and check the Bookmarks tab.
Highlight
The lectures can sometimes be long and introduce multiple concepts.
For this reason, you can also highlight segments of the video transcripts, like you would with a printed book. Highlights are automatically saved and quickly accessible from your Bookmarks tab.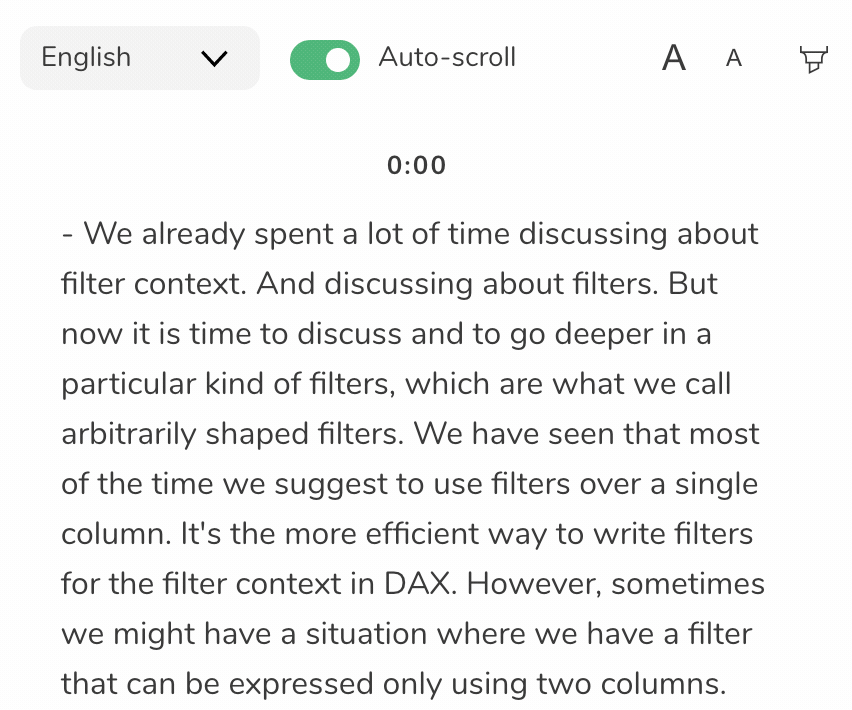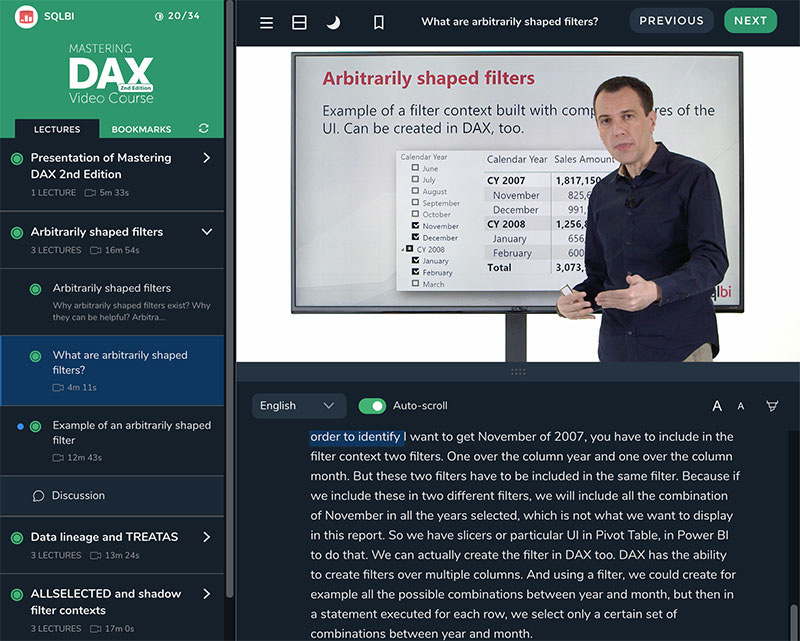 Learn in the dark
For additional comfort, switch your interface theme to dark mode when you find yourself studying in the evening or late at night!
Are you using a device that automatically switches to dark mode after sunset? The theme of your course will also change automatically.
Designed to be fast and reliable
Our platform is a web-based application designed to be fast. It doesn't reload the page every time you change a lecture or perform a custom action like many other platforms do. Instead, it uses the most advanced technologies to enhance the user experience.

Works with IE11, Edge, Chrome, Safari, Firefox, and all browsers on modern mobile devices.
The videos on our platform are hosted on Vimeo, a recognized leader in video hosting, which provides an SLA of 99.9%. This guarantees great reliability and maximum uptime.
Ask questions
Something not clear? Feeling confused?
Don't be shy, ask questions!
In every section of our video courses, you will find an easy way to start a discussion about a topic relevant to the course. Our team usually replies within a few hours!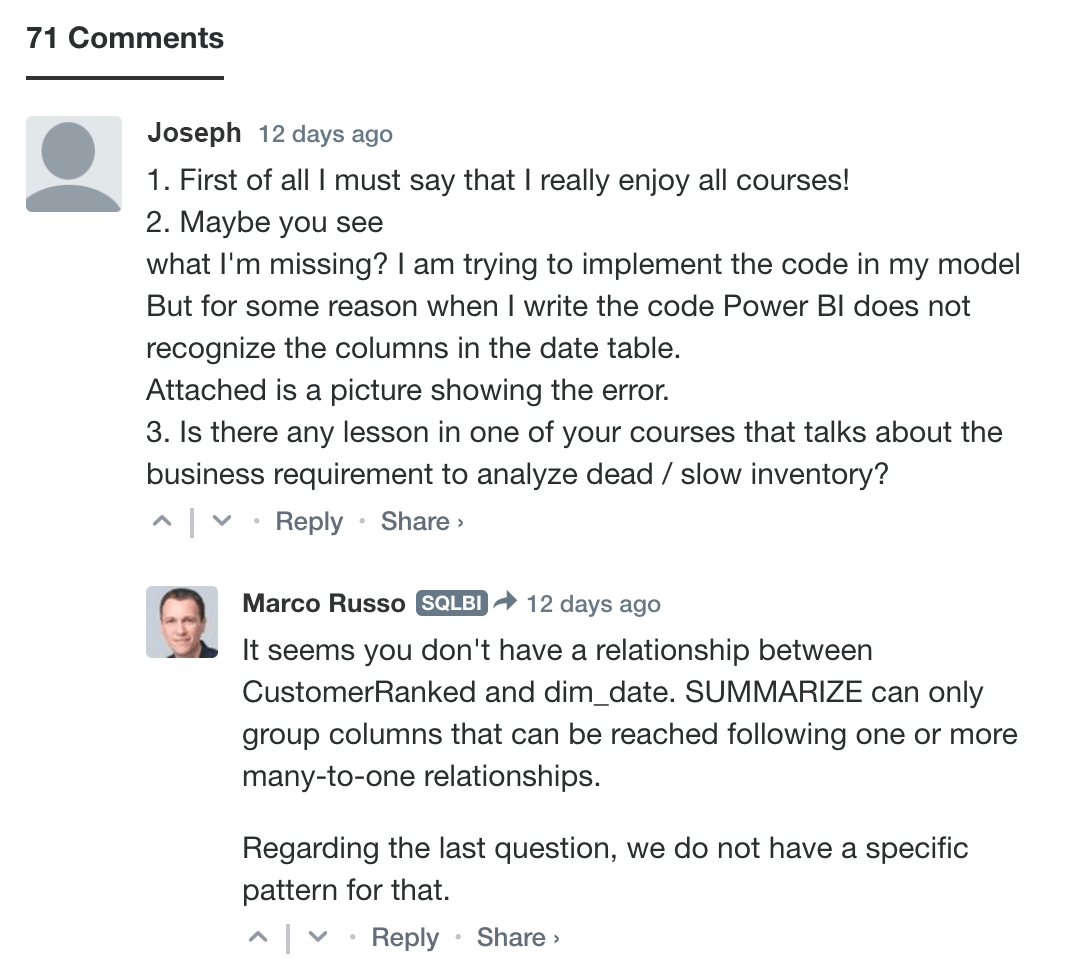 ---
Content is king
The SQLBI learning platform is filled with helpful features for our students, but the content of our courses is what makes it great.
Enroll in our courses to enjoy the best learning experience, coupled with the most advanced content there is about DAX, Data Modeling, Analysis Services, and Power BI dashboard design.
Updates
We periodically update our courses with new content. We usually notify our students by email, but you can also easily identify new content directly in the lectures list.
[ 1 ] The features described in this page are available with: Introducing DAX Video Course, Introduction to Data Modeling for Power BI Video Course, DAX Tools Video Course, Mastering DAX Video Course, Optimizing DAX Video Course, DAX Patterns collection, Mastering Tabular Video Course, Data Modeling for Power BI Video Course, Power BI Dashboard Design Video Course, and SQLBI+ video courses.
Manage your team

A team management dashboard is available for customers who purchase transferable licenses.
Use this tool to assign your licenses and monitor the study progress of your team.